Spousal RRSP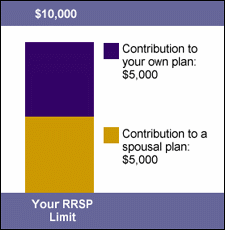 Spousal RRSPs are an excellent way to split income with your spouse after retirement. Shifting income from one spouse to another often results in a lower family tax bill than if all the income was reported by one spouse only.
You can contribute to a spousal RRSP regardless of you own age as long as your spouse is 71 or under and you have RRSP contribution room.
Setting up a spousal RRSP does not increase your RRSP limit. The total contributions you make to your own plan plus the spousal plan cannot exceed your personal RRSP limit. For Example, if your RRSP limit is $10,000 and you contribute $5,000 to your own plan, you can contribute $5,000 to a spousal plan.