Three Sources Of Investment Income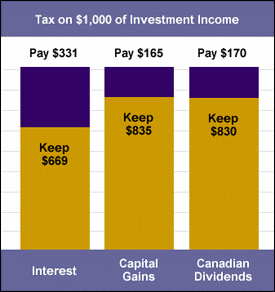 The three types of investment income are all taxed at different marginal rates.
Dividends are taxed at approximately the same rate as capital gains, depending on your marginal tax rate, while interest is taxed at a higher rate than both dividends and capital gains.
The graph shows approximately how much tax you would pay on $1,000 of investment income and how much you would keep if your taxable income is $60,000 in Ontario.